Teacher Login Information
Student Login Information
Video 1 - How to Assign Test to Students 
Video 2 - How to Find Class Scores & Print Student Reports
Video 3 - How to Add Classes to Teachers in Growth Measure
Video 4 - Growth Measure Data Meeting Sept. 2, 2022
FAQ
Growth Measure is the new reading assessment replacing Reading Inventory for the 2022-2023 school year.
Here are a few things to know about Growth Measure:
The test takes around 30 - 40 minutes for students to complete. The test will time out after 60 minutes. You can pause and save progress to come back another day.
After completing the test, each student will be given their Lexile Range.
This test is available for grades 4-12.
Administrators cannot manually add teachers or students. If they are correctly and completely entered into Skyward, they will populate into Growth Measure overnight.
Teacher Logins
To login as a teacher to the 'Ed' program, the site where you will manage the Growth Measure test for your class, click here: https://www.hmhco.com/ui/login
Your username will be your firstname.lastname
To get your password, please use the 'Forgot password?' feature on the login page.
Before students in your class can take the test, you must assign the test to them. Here are instruction on how to do this:
Student Logins
Students will log into the test with the same link as the teachers: https://www.hmhco.com/ui/login
For students, their usernames and passwords will be their student ID #.

Additional Information
If you would like some additional information on the Growth Measure, please click here to read some helpful answers that HMH has provided on their website. If you have more questions, please email:
This assessment is brand new to us, so please be patient as we learn this new system as well!
FAQs
How can I learn more about the test? Can I see what the test looks like before my students take the test?

HMH held a virtual meeting on September 2, 2022 for teachers to ask questions and learn more about the Growth Measure test. This meeting covered topics such as what sort of questions students are asked on the test, what the format looks like, how to run reports after students take the test, and how to print individual student reports.

Is the Growth Measure required for my students?

Growth Measure is required for 6th-grade students in January of 2023. Please contact Brandee Bergum, brandee.bergum@jordandistrict.org, for more information on that requirement.
Grades 4, 5, and 7 - 12 can use the Growth Measure assessment at any time throughout the year to help in their ELA curriculum. Use of the assessment is not required, but can be very helpful.

Why can one of my students log in to Growth Measure, but the test is not available for them to take?

If you have already assigned the test to your class, but one of your students does not have the test available when they log in, it is likely that this student moved into your class/period after you assigned Growth Measure to the other students in the class. In this case, you will need to assign the Growth Measure test to just that student.

Why do I need to select just one new student that has recently entered my class, and assign the test to them? Why can't I just select the whole class again and assign the test to everyone again?

If you reassign the test to a student that has already taken it, their score will be

erased

. Do not reassign the test to a student during the same testing window.

How often can students take the Growth Measure Assessment?

Students can take the assessment once every testing window. There will be three testing windows:

Beginning of Year, August 17 - October 21
Middle of Year, December 1 - February 15
End of Year, April 3 - June 30

Can I give the Growth Measure every month to my students?

No, the Growth measure is not meant to be a progress monitor.

Do I have to give Growth Measure every testing window?

If you choose to use the Growth Measure assessment, you do not need to use it every testing window. HMH has indicated that you will receive more complete data if you use it once every testing window, but that is entirely up to you.

My student didn't try, and just clicked through the test. Can I delete their score and have them try it again?

We cannot delete test scores. You will need to go in and reassign the test to just the one student, and have them retake the test. Use the instructions from this video on how to assign the test.

How can I better understand the information and reports that I am seeing in the Ed program, now that all my students have taken the Growth Measure Assessment?

HMH will be setting up Office Hours where JSD teachers can meet with HMH Solution Architects to go over classroom data and learn more about how to interpret data, and what to do with that information moving forward through the year. These Office Hours will follow each Testing Window, and we will post that information as soon as we have that scheduled with HMH.

Is there another way to assign the test? My screen looks different than the video.

If your screen looks different than the video above, try this video.
Please click here for more detailed FAQs from HMH if you are interested in more information.
Let us know what other questions you have about this new assessment!
Please Give Feedback to HMH!
If a there is a report you can think of, that does not exist in the Ed program, please give HMH feedback letting them know exactly what you would like. To do this, please click the purple 'i' located in the lower right corner of your screen once you are logged in to the Ed program, and follow the instructions provided.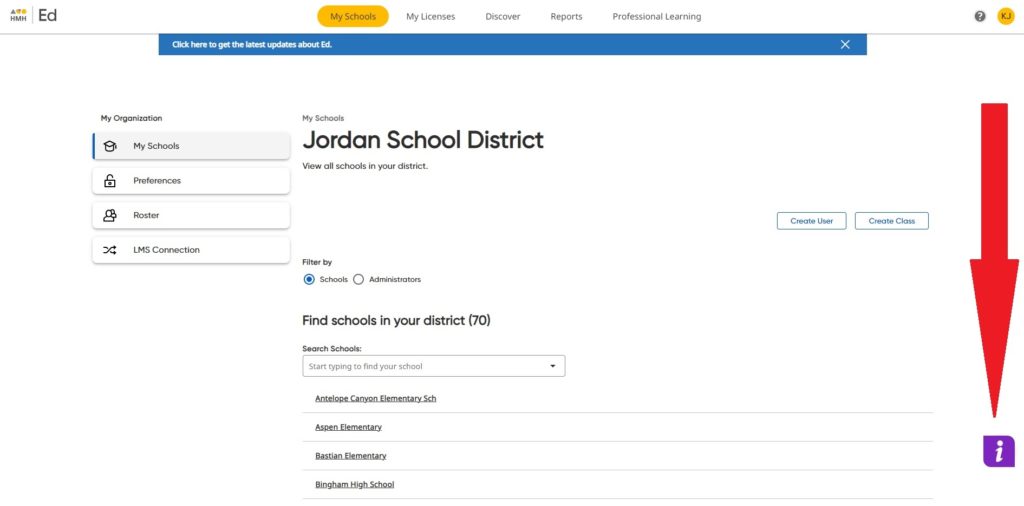 HMH has specifically asked us to do this so they can make Growth Measure as useful for you as possible.